What Makes A Good Cut Of Steak
Weber Traveler Portable Gas Grill Review / Steak and Corn, Awesome!
Marbling is the presence of intramuscular fat, and it creates a yin to the yang of muscle. This fat adds immense flavor, tenderness, and moisture. The more marbled the steak, the higher the fat content.
Bone-in vs. boneless: Bone-in meat takes longer to cook, but the bone helps seal in moisture and adds a lot of flavor. The saying, "the closer to the bone, the sweeter the meat" didn't come from nowhere.
USDA grading: The national meat grading scale in the United States, developed by the United States Department of Agriculture, is based on the meat's level of maturity and marbling. There are eight grades, and from highest grade to lowest, they are Prime, Choice, Select, Standard, Commercial, Utility, Cutter, and Canner. Read more about USDA grading on the agency's website.
Dry aging: Dry-aging is the process of aging beef in a controlled, open-air environment. This removes moisture from the surface of the meat, which causes the enzymes in the beef to slowly break down and form a crust to which bacteria and mold attach . The inside stays bright red and moist, and the resulting flavor is as rich, full-bodied, and nutty-tasting as beef gets.
Tenderness: The presence of soft muscle tissue and fat are what create tenderness. While tenderness is coveted, it is by no means necessary, and a tougher cut of meat can be compensated for with a proper cooking method .
Use A Thermometer And/or A Timer
Whether you are cooking a thick steak or a flat, thin cut of meat will determine whether you need a meat thermometer or not. For steaks that are at least 1 1/2 inches thick, you will want to use a meat thermometer to get an accurate reading. For rare, remove steaks at 120 F to 125 F, medium rare 125 F to 130 F, and medium 130 F to 135 F.
It's nearly impossible to get an accurate temperature read on steaks thinner than 1 1/2 inches so it is best to use a timer instead. For 1-inch thick steaks cook them 3 minutes each side over high heat for quite rare, 4 minutes each side for medium rare, and 5 minutes for medium.
Try to avoid this if you can, but if you just have to take a peek, remove the steak from the grill and use the tip of a paring knife to make a cut into the center of the steak to see how things are going. Keep in mind that the steak will continue to cook as it rests after being removed from the grill. Cutting into the steak is discouraged because it will release the precious juices that help flavor and tenderize the meat.
Common Grilling Steak Times
So, how long do you cook steak on the grill? That answer largely depends on the thickness of the meat youre cooking. You can cook thin or thick cuts on the grill just fine, but youll definitely want to alter your times to cook your desired cuts to the right doneness, which, again, is a matter of preference.
One good tip to keep in mind is to use a meat thermometer for thick cuts of steak and a timer for thin ones. A steak thats ¾ of an inch thick or less may be difficult to get an accurate temperature reading from, so a timer can help. But a meat thermometer can give you a more precise idea of the doneness of your steak to make sure its right.
For a medium-rare doneness, you typically will need to grill your steak between 4 to 6 minutes on each side, depending on thickness. For medium cooks, shoot for closer to 5 to 8 minutes on each side. Its always best, though, to start with the lower grilling steak time and check with your finger to see if it might need a bit more time, instead of allowing it to cook for a couple of extra minutes. You can always cook it a bit longer if required, but you cant get back tenderness you lose from overcooking.
When you touch the center of your steaks, a medium rare cook will spring back slightly, yet still feel squishy. A medium cook will be more springy than squishy. If all else fails, you can always cut a small slit in the center of your steak to check its color, but this should only be used as a last resort.
Also Check: Mcdonalds Steak Bagel Sauce Recipe
Prepare The Barbecue Grill
The cooking surface must be clean and oiled so your steaks will have good contact with the grill without sticking. Prepare the grill while it's finishing heating up.
The easiest way to oil the cooking grate is with an oil-soaked paper towel and the metal brush used to clean the grill. Fold a paper towel in half until it is the size of your grill cleaning brush. Soak it with oil that has a high smoke point, like canola or grapeseed oil. Brush this over the cooking grates evenly. It will smoke some, but enough oil will remain on the grates as long as you don't let the grill sit at its highest temperature for too long before grilling.
How To Grill Steak
It is steak season in our home and we couldnt be happier! Fathers Day always seems like a great weekend to kick off grilling and a juicy steak that satisfies dad. My husband loves steak and is always up for trying a new recipe.
This marinade is so simple to make and has ingredients that are in the pantry to make it even easier. We love the flavor, juicy steak and how tender every bite is with this special marinade.
Impress your family with this perfect cut of steak and enjoy all the rich flavors it has to offer. Grilling steak has never been easier and more satisfying.
You May Like: How Long Can Omaha Steaks Stay In Shipping Cooler
Salt Salt And Salt Again
A few hours before you grill, lightly sprinkle both sides of the steak with salt put it on a wire rack set on a rimmed baking sheet. The salt helps the cells retain water, guaranteeing juicy meat. Before placing it on the grill, pat dry with paper towels, and generously salt the meat again. Finally, pass some fleur de sel at the table to sprinkle over the sliced steak for more flavor.
Helpful Tips For The Best Way To Grill Steak
Shop for steak with a fair amount of fat marbling throughout. More thin swirls of fat throughout means youll get a more tender steak .
Using bone-in steak isnt necessary. The bone will hardly season the steak in the amount of time it cooks, and it would only season the area touching the bone anyway. It does help retain a little moisture in that area though if that makes a difference to you.
Dont skip salting and resting for a slightly juicier steak that is has better seasoned taste internally .
Season with a fair amount of salt. Generally you want about 3/4 to 1 tsp kosher salt per pound of steak.
Preheat the grill and monitor its temperature throughout entire grilling process. You dont want temperature to rise or drop too much.
An instant read thermometer is key to grilling the perfect steak. It takes out the guess work and is just what you need to just reach your desired doneness . Plus the slice and peek method will result in lost steak juices to the grill.
Let steaks rest 5 to 10 minutes before serving so that the juices of the steak can redistribute throughout and so much of it doesnt end up on your cutting board or plate.
For a deliciously rich steak dont skip the garlic herb butter. It is the crowning finishing touch.
Read Also: Mcdonalds Steak Egg And Cheese Bagel Recipe
If You're In A Grilling Rut It's Time To Switch Things Up Check Out Our Favorite Steaks To Toss On The Grill
I dont know about you, but I often find myself in a grilling rut. Week after week, Im grilling up the same top sirloin steak, a round of burgers and vegetable skewers. Well, its time to break out of that routine! Theres a whole world of meats you didnt know you could ask for at the butcher counter. But sometimes its hard to make changeshow do you know which is the best steak for grilling and which should be saved for other cooking methods? As a former restaurant chef, I know all about the different cuts of beef. There are many steaks well-marbled and tender enough to simply toss on the grill, and there are a few that benefit from some marinade. And then, there are a few cuts Id avoid completely when it comes to the grill. Lets take a peek at which steaks fall into which category.
You Cant Put Moisture Back Inside A Steak
The best way to bbq a tomahawk steak? ETI Dot | Hellrazr
As steaks grill over high heat, they lose moisture. Fat and juices are literally pushed out of the meat. Thats the price we pay for making the steaks easier to digest.
Perhaps the most important part of grilling a steak is taking it off the heat before it has lost too much moisture. There is a short window of time, usually just a minute or two, when steaks go from medium rare to medium, or from medium to medium well.
Catching that window requires vigilance. Dont walk away from a steak on the grill. And remember, its always better to take it off when its underdone and then return it to the grill than it is to let a steak overcook.
Recommended Reading: Seasoning For Ribeye
The Two Best Ways To Grill Steak
The ideal grilled steak has an appetizing browned exterior with tender, still-pink meat inside. The tricky part is making sure that you don't burn the surface of the meat before the inside gets warm enough to eat, or cooking the inside too much before getting those nice surface grill marks.
There are two ways to go about it.
Direct grilling: Cooking the steak over high heat, and flipping occasionally until the meat reaches the desired internal temperature .
Reverse searing: Cooking the steak slowly at a low temperature with indirect heat to get the meat 10 to 15 degrees from the final desired internal temperature, then finishing by cooking over high heat to get browning and grill marks.
How To Prepare Steak For Grilling
Two things are important here – temperature and seasoning. Especially for larger cuts, letting the meat come to room temperature before you cook it ensures the beef will cook evenly.
Small steaks benefit from a bit of chill if you're aiming for mid-rare, as they cook much more quickly. We highly recommend letting the cut sit out for at least half an hour, even up to two hours for big pieces of meat.
Secondly, seasoning is king. Salt and pepper are the classics, and there's a reason for that. While all sorts of rubs and marinades exist, if you're just starting out, learn how to use the basics first. They're your best friends when it comes to getting to know seasoning.
Salting your steak a couple of hours before you grill allows the seasoning to penetrate right through the meat, making it flavorful throughout. Some people even salt overnight.
If you're in a hurry, don't salt a cold steak 10-20 minutes before cooking – this will mostly just draw out moisture and dry the meat out. Salting right before the steak hits the heat means that you won't lose moisture in this way.
One final tip is to pat the beef dry when you're bringing it up to temp. This will allow it to develop a better sear when you grill it.
Also Check: Canada Steak Burger Chula Vista
Season Steaks With Salt And Pepper
When it comes to seasoning a steak, you don't have to get too complicated about it. There are all kinds of spice rubs and seasoning mixes out there, but a perfect steak really doesn't need much more than Kosher salt and freshly ground black pepper.
Kosher salt is the best kind of salt for seasoning a steak because its coarse crystals will really grab onto the meat. Season generously. When it comes to pepper, everyone's tastes are a little different. But even a little bit of freshly ground black pepper will spice up a steak and also give it a slight crunch. But please be sure to use freshly ground black pepper and not the powdery stuff that goes in pepper shakers.
Seasoning a steak is one of those topics someone could write a whole article about, and in fact, we have. For a little more depth, check out this article on seasoning a steak.
Steaks Under 15 Inches Thick Sear First And Finish Low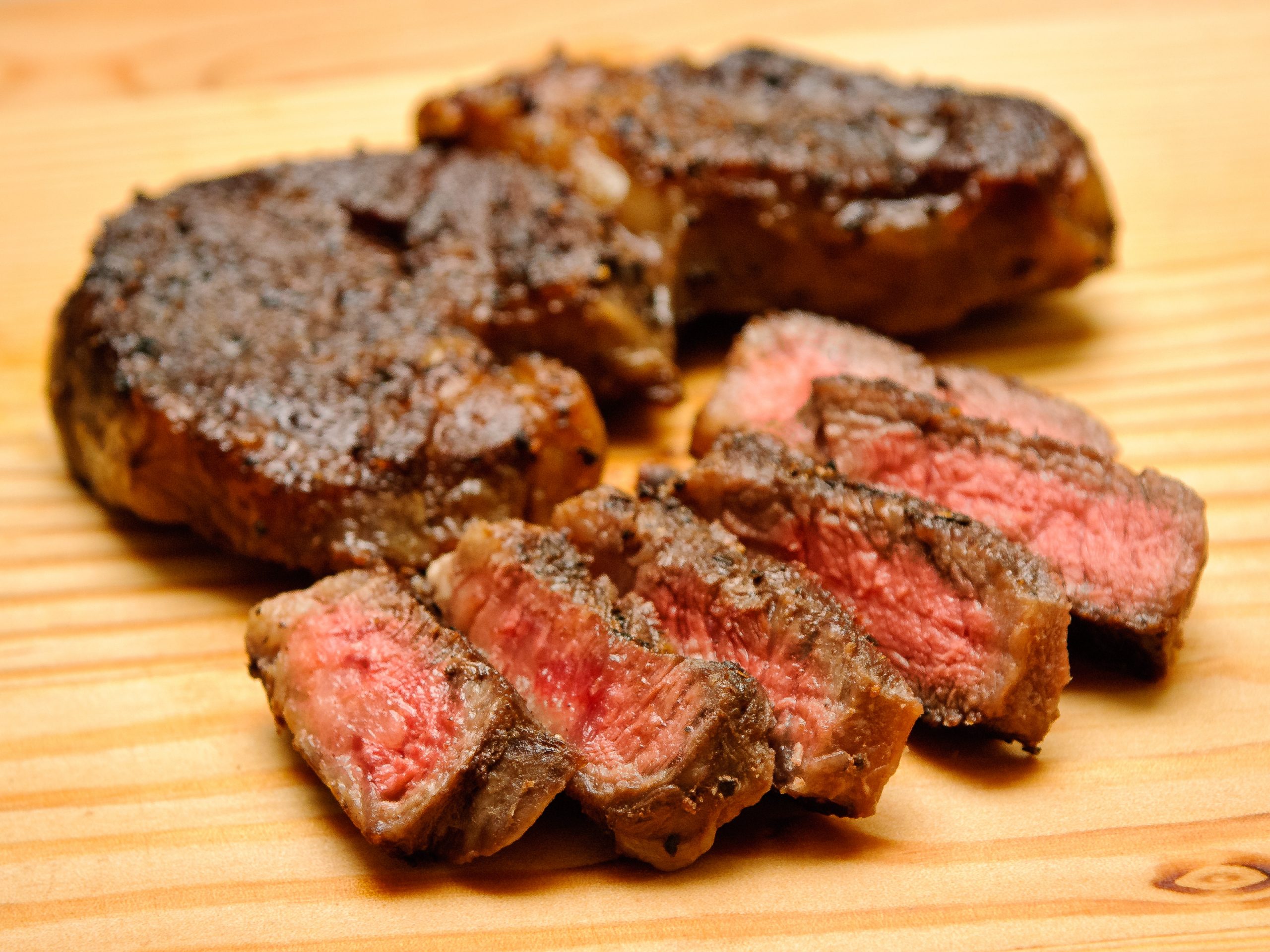 This is the traditional way of cooking steaks, and my recommendation is:
For ANY steak under 1.5-inches thick, sear first, then finish it low. DO NOT use the reverse sear method.
Steaks under 1.5-inch thick cook through very quickly. If you cook them slow first, then sear after, you have a very high risk of raising the internal temperature too high before searing, leaving too little margin to get a good sear without overcooking the center.
This can result in one of two scenarios:
Either your steak is perfectly medium-rare throughout, but with hardly any sear or you have a great sear but had to overcook the center, taking it to well done or worse.
Its all too easy to overshoot your target finished temp or overcook the center if you sear to finish after bringing the center up to temp with thinner steaks.
So for thin steaks, get your sear first, set that right, then finish it low. You have more control, and your success rate will be far higher than the reverse sear method.
Read Also: Pee Dee Steak House On 125
Season The Steak Simply And Generously
Use lots of kosher or sea salt and freshly ground pepper. I like to sprinkle on garlic powder as well, but this is optional.
Tip: Pat the steak dry with a paper towel first, brush with oil, season, then pat seasoning into steak.
Tip: EITHER season right before grilling OR an hour or more before grilling . I season right before grilling.
The Best Pellet Grill: Oklahoma Joes Rider 900 Pellet Grill
In the world of manly grilling, it can be seen as sacrilege to use pellets, says Lee. But the convenience is unmatched. Especially if youre not someone whos into the fire aspect, with this grill, you dont even have to think about it. A step above gas in terms of flavor and smokinessbut with the same dial-turn-to-light easethis grill is a happy medium that still uses wood but takes the guesswork out of heat and temperature.
You May Like: Seasoning For Ribeye
Read Also: How Long Will Omaha Steaks Stay Frozen During Shipping
Grilling The Perfect Steak: A Simple Grilled Steak Recipe
Want a recipe for grilling the perfect steak that you can try out for dinner tonight? You can do this with rib eye, porterhouse steaks, boneless strip, or whatever other cut delights you the most. You can also use a steak marinade overnight and grill the steaks the next day. This recipe serves four.
From The Right Temperature To Resting Time
How to Grill Swordfish For Best Flavor | Make a Simple Marinade
It seems that people approach grilling steak one of two ways: either in a casual manner or paying perhaps too much attention. Some will heat the grill with abandon, throw the steaks on, flip once, then pull them off, and serve others will fret and worry, cutting into the meat every two seconds wringing their hands over whether the meat is done or not. Both techniques do have some merits but a method somewhere in the middle is ideal.
Grilling a delicious steak is easy, as long as you follow a few simple steps. As with anything, a bit of practice always helps, too. Follow some advice, grill a few steaks, and you'll be serving up perfectly cooked juicy steaks in no time.
You May Like: Creamy Dill Mustard Mcdonalds
Grilled Steak Doneness Internal Target Temperatures
Rare: 115 120 degrees, serve steak at 125 degrees
Medium rare: 120 125 degrees, serve at 130 degrees
Medium: 130 135 degrees, serve at 140 degrees
Medium well: 140 145 degrees, serve at 150 degrees
Well: 150 155 degrees, serve at 160 degrees
Notes Regarding Temperature
Temperature should be taken in the center of the thickest portion of the steak using an instant read food thermometer.
To take the temperature of steak insert the thermometer through side of steak, tip in the center, and ensure that its not touching bone or fat.
I love the Thermapen food thermometer which can be purchased online.
Steak should rest 5 to 10 minutes, not only for juices to redistribute, but also so it rises to final target serving temperature.
Note that the FDA recommends an internal temperature of 145 degrees with a 3 minute resting period for food safety.
The Food Lab's Definitive Guide To Grilled Steak
Summer's here and I've got a brand-new backyard to grill in, so now seems like as good a time as any to reexamine some of the things we know about grilling beef.
Sure, we can all agree on what our goal is: A perfect steak should have a crusty, crunchy, well-browned exterior surrounding a core of perfectly pink, juicy, tender meat that spans from edge to edge. A perfect steak should have a nice contrast between the smoky, almost charred exterior and the deeply beefy interior. A perfect steak should be chin-drippingly juicy and melt-in-your-mouth tender.
We all know where we want to go. The real debate is, what's the best way to get there? You've just dropped $50 on some prime aged beef, and you're rightfully nervous about screwing it all up. After all, there's a lot at… ahem, wait for it… steak.
Want to know how to grill a steak? Here's my advice: Do not do it the way they do it at steakhouses. It seems counterintuitive: Surely a restaurant with years of experience cooking hundreds of steaks a day knows a thing or two about how it's done, right? Well, yes. They know how to cook a steak in a steakhouse setting, where their goal is consistency, quality, and, more importantly, speed. Hungry customers don't want to have to wait for their meat, and a steakhouse has equipment and techniques designed to meet those needs.
Ready to dive in? Let's go!
Don't Miss: Philly Cheese Steak Sam's Club